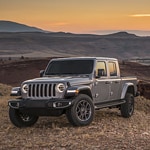 The all-new Jeep Gladiator is more than just a widely popular midsize pickup truck. It is also a powerful work vehicle that can double just as well for family driving. Find out why the new Jeep Gladiator should be on your car buying list now.
When you first look at it, you might assume that it is just like any other Jeep vehicle. Its cab features the hallmark Jeep design that has made this brand famous throughout the years.
However, you also look at the back and realize that it has a full-size pickup bed. This bed has the length and width needed for hauling any number of items, such as hay, fodder, silage, and even small vehicles like UTVs.
Further, the new Jeep Gladiator from Jeep comes with a powerful engine that offers plenty of torque and horsepower. You can drive it on paved roads and also in the off-roads.