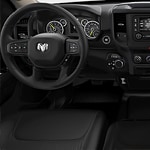 The newly released Ram 1500 serves as far more than just a light-duty work truck. It also has the durability features that you look for in a reliable family vehicle.
Capable of seating up to six people, depending on the trim that you choose, the Ram 1500 a multi-function pickup bed gate that can be perfect for busy family driving. You can stop at the grocery store and load up big bags of groceries for your household. You can also tow your kids' bikes, UTVs, or even a small pontoon or canoe in the back of your pickup.
If your kids love outdoor adventures, you can hitch up and tow a flatbed trailer full of recreational vehicles and mopeds. The Ram 1500 has the endurance to be driven in the off-road, into muddy fields and wet streams where your kids like to ride their scooters and bikes. You avoid the fear that your pickup will get stuck in mud or muck.