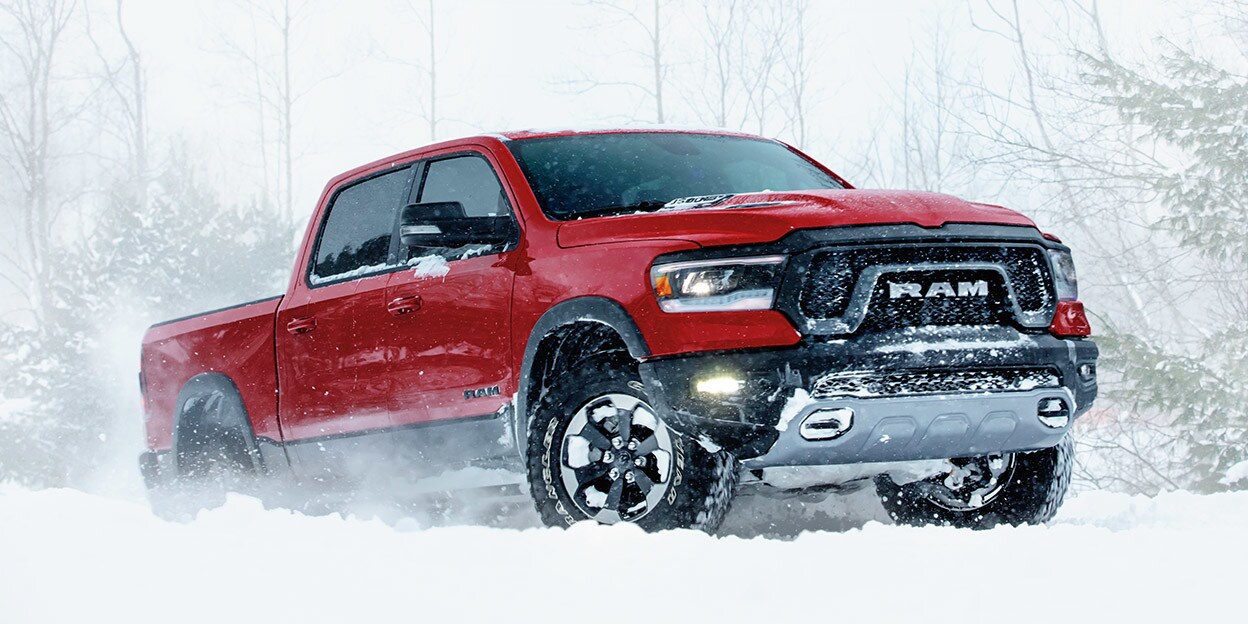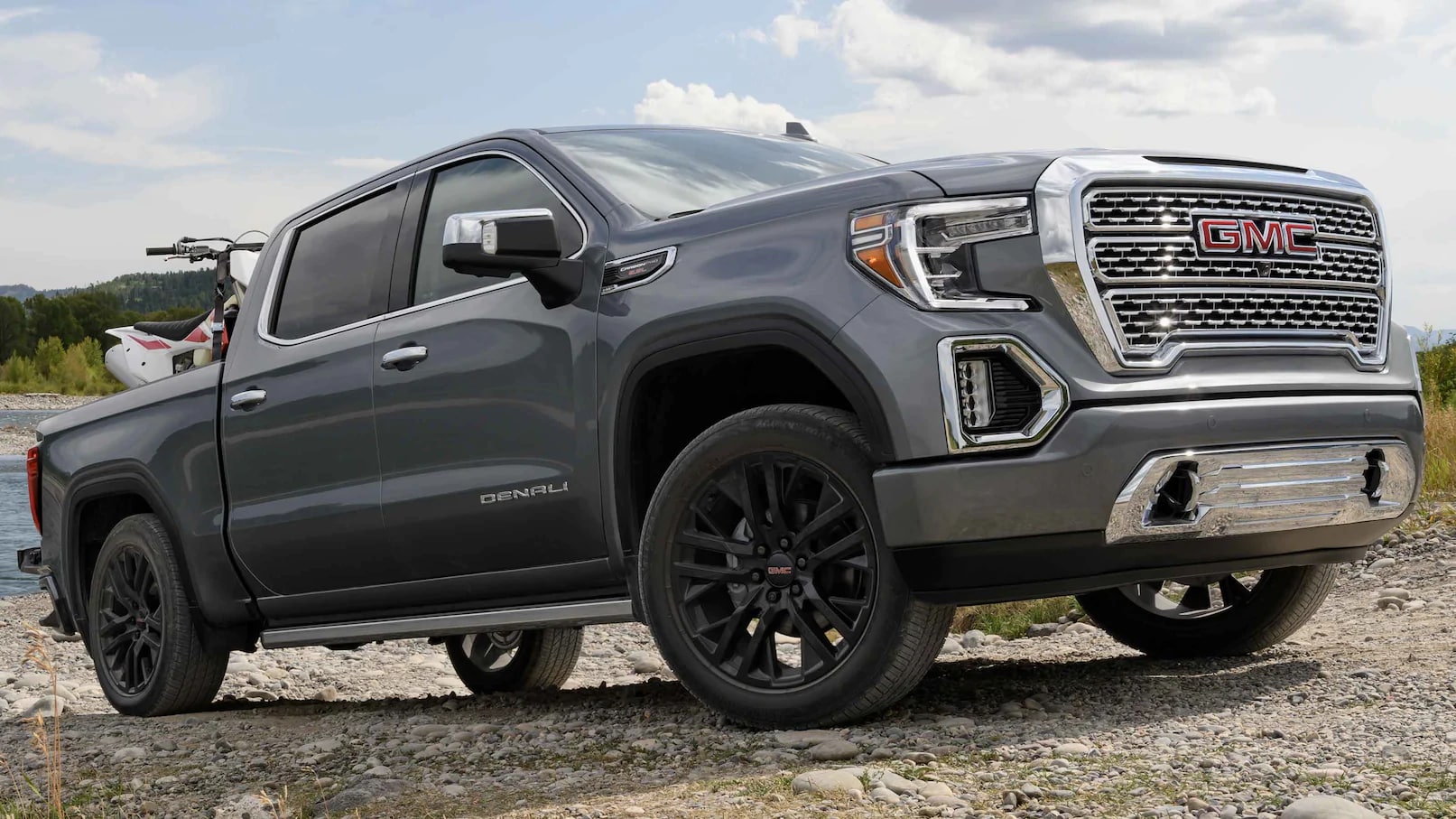 Comparing the Ram 1500 vs Sierra 1500 in Kindersley, Saskatchewan
We're proud to be the leading Ram dealership in Kindersley, Saskatchewan. We serve the areas of but not limited to Rosetown, Eston, Unity, Kerrobert and the surrounding areas. We have a whole range of brand new Ram vehicles, including the all-new 2020 Ram 1500. Customers interested in the 2020 Ram 1500 for sale in Kindersley, Saskatchewan, are encouraged to complete our online finance application and get pre-qualified today for a chance to own and drive off in this awesome piece of automobile engineering. Below we shall be comparing the 2020 Ram 1500 vs 2020 Sierra 1500 in Kindersley, Saskatchewan, and find out which is the superior one depending on different features that we shall highlight below.
Comparing the performance of the Sierra 1500 vs Ram 1500
Ram vs GMC in Kindersley, Saskatchewan, is a hotly contested debate of which is a better truck. We will be comparing the top trims of these two 1500 models. We will begin with the performance features of the 2020 Ram 1500. The top trim of the Ram 1500 comes with a 5.7 HEMI® V8 engine with eTorque, which delivers up to 395 horsepower and 410 lb-ft. This engine has impressive fuel efficiency; it can carry a huge payload and has an impressive towing ability. The eTorque is a small hybrid system that adds up to 130 lb-ft of launch torque. The engine has a combined fuel economy rating of 12.8 litres for every 100 kilometres. The numbers on payload and towing capability are amazing. The Ram 1500 has a towing capacity of up to 5783 kg and a maximum payload of 1043kg.
The top trim of the Sierra 1500 comes in a 6.2-litre V8 engine, which delivers up to 420 horsepower. This engine also produces up to 460 lb-ft. The engine is also married to a ten-speed automatic transmission. This might be a bigger engine but doesn't make it up in terms of towing capacity and its maximum payload. Its towing capacity is 4354 kg, which is significantly lower than the Ram 1500. Additionally, it has a maximum payload of between 699 kg and 921 kg, which is also lower than that of the competitor. The Sierra 1500 has a lower combined fuel efficiency rating of 13.7 litres for every 100 kilometres.
Interior and Exterior Features of the 2020 Ram 1500 vs 2020 GMC Sierra 1500
Sales hours
Monday

8:00am-5:30pm

Tuesday

8:00am-5:30pm

Wednesday

8:00am-5:30pm

Thursday

8:00am-5:30pm

Friday

8:00am-5:30pm

Saturday

9:00am-4:00pm

Sunday

Closed
2020 Ram 1500 Exterior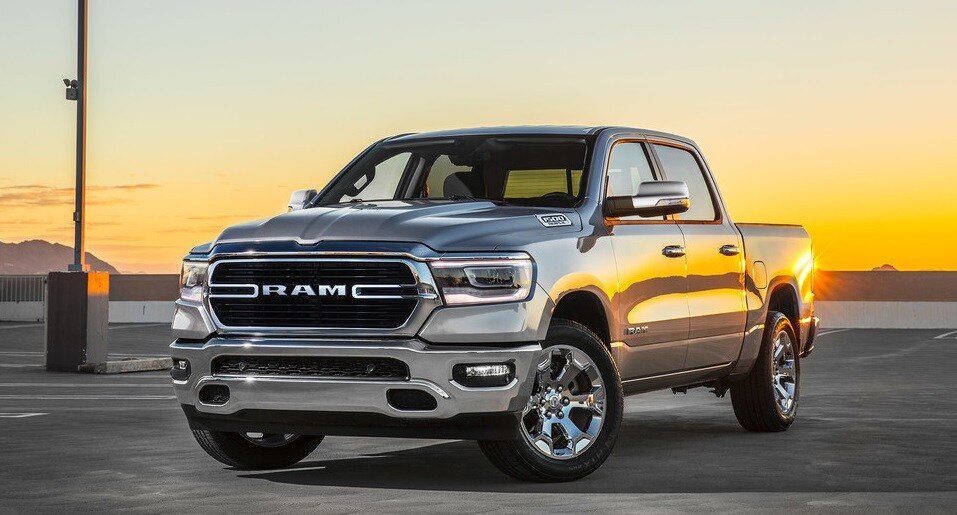 2020 Ram 1500 Interior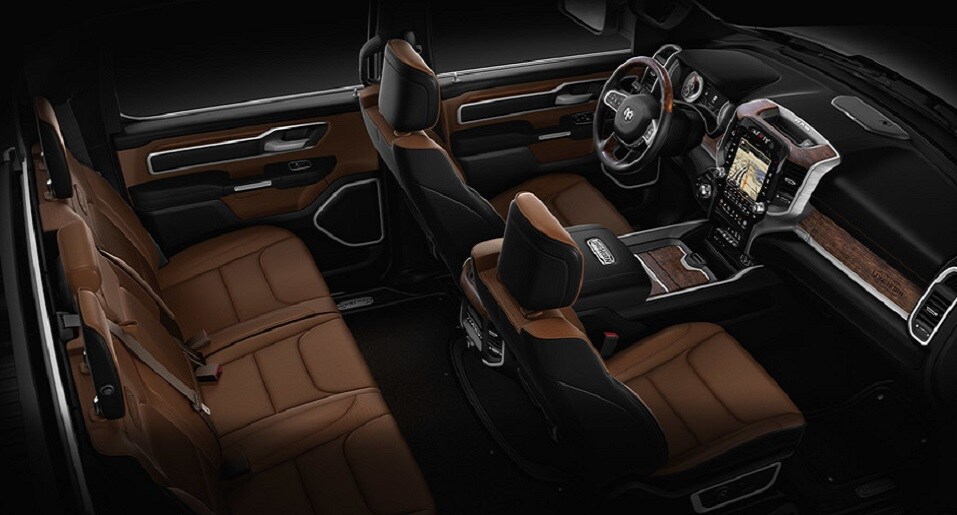 Unique features of the Ram 1500 vs Sierra 1500
Ram 1500
This is, without doubt, the most luxurious and capable truck in its class. This is evidenced in several features that are unique to it. They include 12-way power seats, including four-way power lumbar adjust, which enables you to find the perfect seating position every time. It also features the largest in class 12 inch touch screen which is a high definition full-color display which also has several other features like pinch and zoom, split-screen capability and can be reconfigured to your taste making it one of the best vehicle screens out there. Finally, it also features a 900-watt premium sound by industry leader Harman/Kardon® which delivers exquisite sound through its 19 strategically placed speakers and a 10-inch subwoofer.
Sierra 1500
The Sierra is not left too far as it to has several features that are unique to it. They include a 15-inch diagonal heads-up display which is first in its class. It enables drivers to view important information on the lower part of the windshield without taking their eyes off the road because it is directly in their line of sight. The world's first six function Multipro® tailgate is also a unique feature to the Sierra. It provides six distinct functions which in turn improves the accessibility of the tailgate and improves loading and offloading. It also features a first in class rear camera called Mirror that provides a wider and less obstructed view for monitoring traffic behind the truck.
The Ram 1500 is the Winner, Test Drive it Today
Both these two vehicles are a phenomenon. With all the above features, the 2020 Ram 1500 is the clear winner so contact us to schedule your test drive so that you could experience this awesome piece of truck engineering for yourself.
2020 Ram 1500 Inventory in Kindersley, Saskatchewan